Sports Reach was invited to play in Bob Valvano's Kentuckiana Friends of V Bocce Tournament fundraiser for cancer research at the Kentucky Castle in Lexington, Ky. on Monday, Sept. 16, 2019. The event helps raise funds for cancer research throughout the Kentuckiana region with support going to the Markey Cancer Center in Lexington, the James Graham Brown Cancer Center in Louisville, a research doctor/scientist in Cincinnati, Dick Vitale's pediatric cancer research funding and the national V Foundation for cancer research. Bob Valvano is a friend and an alum of Sports Reach having coached one of our teams on a basketball trip to Belize in August of 2015.  
Sports Reach Executive Director Robby Speer along with his two associate directors, Andrew Hammond and Zach Arington, arrived in matching Sports Reach bocce t-shirts and hats. The shirts/uniforms were a big hit amongst all the participants and volunteers. Robby has already said, "Who knows, we might need to look into a bocce mission trip to Italy!"
Bocce is traditionally an Italian social game. The two competing teams throw/roll four bocce balls each while trying to see who can get the closest to the pallino (small white ball) to score points. Whichever team has the most balls closest to the pallino scores that many points. It could be just one, or it could be up to all four from one team being the closest, so you can score between 1-4 points in each frame. 
The tournament field consisted of 20 three-person teams,the fourth player for each team being a local celebrity. Celebrities included athletes, musicians, radio/TV personalities, and even a few Sports Reach alumni. Included in the lineup were Louie Dampier, Jim Andrews, Tom Leach, Mike Pratt, Doug Flynn, Jacob Tamme, Keith Farmer, Bill Meck, Sam Dick, Rob Bromley, Paul Rogers, Perrin Johnson, Dave Baker, and Nappy Roots to name a few.
The Kentucky Castle provided a spectacular venue first with lunch at noon and then the tournament beginning at 1 p.m. Competition occurred on four indoor and air-conditioned courts on the back lawn, and six outdoor courts on the front lawn. Each team was guaranteed three games with the format opening with teams numbered 1 vs 2, 3 vs 4, and so forth. The winners of 1 vs 2 played the winners of 3 vs 4 and the losing teams of those matches played each other and so on. After the first two matches, there were five 2-0 teams, ten 1-1 teams, and five 0-2 teams who got divided into flights separated by their record and point differential.  
Sports Reach happened to come out with the number one overall seed going 2-0 with a +13 differential. The top four undefeated teams with the most significant point differential were then competing for the grand championship in the championship flight. After defeating Tom Leach's team (voice of the UK Wildcats), Sports Reach went on to defeat Paul Rogers' team (voice of the UofL Cardinals) in the semifinals, before getting defeated 12-1 in the finals by three-time defending Kentuckiana Friends of V Bocce Tournament champion Louie Dampier and his team. 
All in all, it was a great afternoon for a very worthwhile cause in cancer research and a great friend of Sports Reach in Bob Valvano. Many great connections were made, and many longtime friendships were furthered throughout the day. We are grateful for all of the doors God opens, and for the relationships, He orchestrates to further His Kingdom each and every day. Thank you to everyone who participated, for your support and investment into cancer research, and the hospitality and invitation of Bob Valvano. We all know it's all for God's Glory!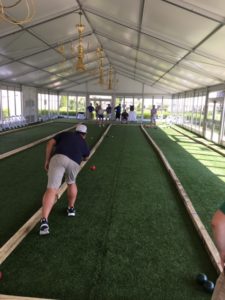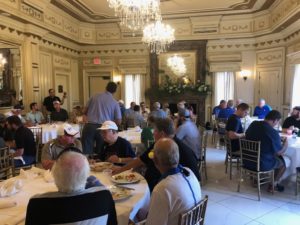 Back to blog