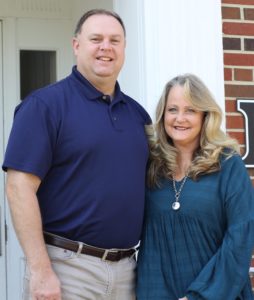 Kelly and Jody Combs are excited to announce that they will be transitioning from the ministry of Athletes in Action to Sports Reach beginning January 2021.
Incredibly, God has brought them full circle back to Sports Reach where they were first exposed to using the platform of sports to reach people for Christ. Kelly took his first international mission trip to Turkey in 2007 with Sports Reach which eventually led to his decision to go into full-time mission work. Since then, Kelly has traveled to ten different countries with a variety of teams to use basketball as a platform to share the gospel. It has also been a highlight of theirs to disciple young athletes in their faith journey and challenge other coaches with the Great Commission mandate.
Kelly's coaching career has spanned over 30 years including every level from beginners to professional athletes. Basketball has always been a big part of Kelly's life. His father was a coach, and he grew up loving the game. Kelly played at Madison Central High School and was on the first team in school history to make it to the Kentucky State Tournament. They finished in the Final Four in 1987. Kelly then went on to play college basketball at Union College and Kentucky Christian College. In 1989, his Knights of Kentucky Christian won the NCCAA National Championship. Kelly received his Bachelor's and Master's degrees from Eastern Kentucky University. He began his coaching career as an assistant coach at Madison Southern High School where he coached the freshman team and assisted with the varsity team for two seasons. Kelly then got the opportunity to become an assistant coach for NAIA Hall of Famer Roland Wierwille at Berea College. Kelly served in this role for 11 years, and this was where he first met Robby Speer when the Sports Reach (Then KY Baptist Crusaders) team came to play exhibition games against Berea. In 2002, Kelly became the head coach at Union College. One of the first things he did was call Robby to bring his team to play at Union. In 2009 Kelly felt the Lord was calling him into full time ministry as a basketball missionary and he joined the staff of Athletes in Action. At AIA, Kelly has served as head coach, tour director, and general manager for teams that have competed all over the world.  His 17 year head coaching record is 266-120, but he considers the relationships and the growth he has seen in the young men he has coached as far more important.
Jody earned her Bachelor's and Master's degrees from Eastern Kentucky University as well. Besides being a tremendous support to Kelly as he pursued his coaching career, she raised their four children and was an elementary school teacher for almost 20 years before they joined Athletes in Action. At AIA she has served in many roles, none more important than supporting Kelly and taking care of their very busy family. She served as a hospitality coordinator, childcare coordinator, and a basketball department assistant all while staying busy teaching Sunday school and leading other events at our church through her work with the women's ministry team.
Kelly and Jody have met so many great people all over the world and have received some of the best ministry training they could possibly get. They are very excited to bring all the experiences and lessons they have learned over the last 10 years to Sports Reach.
Back to blog