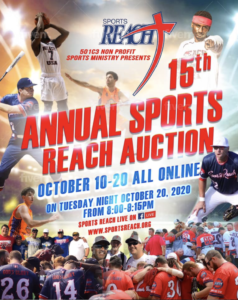 At Sports Reach, it is our mission to provide opportunities for athletes, coaches, and fans to spread the hope of Christ across the globe through sports. However, in order to continue building bridges and sharing our faith, we need your help! 
One of our favorite events each year is our Annual Sports Reach Auction. Our auction builds support for Sports Reach programming, while keeping things fun and providing fellowship for those in our corner. Although this year's circumstances are causing it to look a little different, we are still extremely excited to continue this event in a slightly different format. 
This year our Sports Reach Auction will be held virtually on Tuesday, October 20th! 
How it will work:
Starting October 10th, you will have access to our virtual silent auction page where you can browse all of the items and begin placing your bids. Bidding will close just before the main event begins on October 20th.
On October 20th, at 8 pm EST, our Facebook page will begin live-streaming a primetime program featuring Sports Reach highlights, testimonies, & a gospel presentation. It is going to be a great time full of inspiration and encouragement!
Our theme this year is "You Can Make A Difference," and we are going to need you to step up to the plate and get involved as we spread the word about our event and it's new format!
How you can help:
Host a "Tailgate Party" at your home– Invite several couples/friends/family over for dinner (to Tailgate) and to watch the program together from 8-9:15 pm EST. Decorate, have fun with it, and a prize for best Tailgate Party will be given out at the end of the program! 
"Like" our Sports Reach Inc Facebook page- and invite your friends to like it as well! 
Subscribe to our YouTube Channel-  Vist our YouTube Channel and click the Subscribe button! Please share & invite your friends to subscribe too. We need 1,000 subscribers to be able to livestream the program on YouTube!
Donate to the auction- Let us know if you have, or know of, any item or experience that can be donated! This can be memorabilia, gear, cabin rentals, golf outings, hog hunts, women's interest items, etc. The more the merrier! You can also visit our Get Involved page on the website and donate financially to help support the mission.
Cover us in your prayers- We only get to do what we do in sharing the Gospel through sports because of you, your support, & your prayers!
Thank you so much for your support! We can't wait to share this event with you!
Back to blog