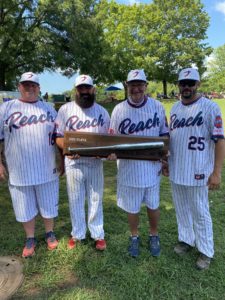 The Smokey Mountain Classic is considered the most prestigious regular season men's softball tournament in the country and this year it was held August 14-16 in Maryville, TN.
The 52nd edition of "The Classic" featured 30 teams that included 4 Major, 5 AA, 16 A, and 5 local teams of various levels.
This tournament is unique in that bases are 80 feet in distance and it allows unlimited home runs. This makes the tournament challenging. Typically it is dominated by the Major teams that are in it. But guess what, just like everything else, the tournament results were a little different this year.
Dan Smith, the #1 seed, won the whole tournament, but did so coming out of the losers bracket. After taking their first loss, they had to, and did, roar back with 6 straights wins to become the champions!
But Sports Reach made a great run as well. Here are some of our notable accomplishments coming out of this tournament:
Beat Statewide 21-6

Beat West Point, #7 and highest ranked A team, 39-38 after trailing by 12 going into bottom of the 6th inning.

Beat #2 Resmondo, a Major team, in a huge upset on a two out, three run homer by Robbie Fow in the bottom of the 7th inning by a score of 29-28

Beat #4 Pure, a Major team, 29-14 in the winners semi finals.

Lost in Winners Bracket Finals to MPT, top AA team, 27-20.

Eliminated by eventual champ Dam Smith, #1 Major, 29-8, but we captured 3rd place.
I was told we are the first A team sine the start of the Major, AA, A,B system to finish in top the top three. 
Brandon Jonas, Robo Blackburn, and Curtis Cornett were named to the All tournament team. 
Sports Reach Alum, who is now with Dan Smith, Bradley Jones was named the tournament MVP.
This was a great weekend of softball. But, more importantly it has been amazing to see how God has been working. We were able to pray with over 120 men. A special moment for me came when a player asked me to pray with him and his little son.
When God opened the door for us to play at a higher level of softball, I really didn't understand what all might happen. The opportunity to minister to so many men of softball influence has been incredible.
The process has been slow and steady, not a pace I like to roll at. But, one that God is showing me I must walk. 
A great weekend, but the season is not over. God has a lot more to do.
Back to blog