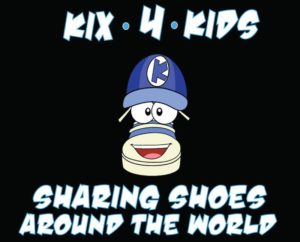 There are kids around the world that love to play sports as much as we do, but don't have the adequate shoes they need to make the game a little easier and a lot more fun. That's why we want to introduce you to our friend, Kix. Kix is helping reach kids so they can help other kids get the shoes they need!
We are starting by collecting sports shoes of any sort – baseball, softball, soccer, basketball, football, track, etc. Sports Reach is working alongside other ministries to send the shoes to countries like: Nigeria, Peru, Croatia, Serbia, Bosnia, Kosovo, Macedonia, Bulgaria, Hungary, Ukraine, Dominican Republic, Haiti, Iceland, Norway, Belize, USA and others others.

Help your kids help other kids for God's Glory. 

If you would be willing to help collect these shoes, let our team know by submitting a contact form. We will provide the boxes for you. We need families, churches and athletes to help make a difference.
Back to blog