Over the weekend I (Zach Arington) had the opportunity to take a group of guys to Plainfield, Indiana to play prison basketball. This is a minimum-security correctional that we've been coming to for the past four years. Most of the inmates are there for six to eight months with a maximum sentence of five years, so the turnover rate is quite high. We do not get to see very many people from previous visits but it allows us to interact with new faces every time we go. We continue to work with Dan Leflore who always makes it easy for us to serve at the facility. 
Something else we enjoy about the correctional is that inmates can watch the game without being separated. I had the opportunity to share the truth and love of Christ with seventy men in between games, seven of which asked for prayer afterward, as they were being released in the next few weeks and knew they would need support. Praise God!
We had eight guys playing on the team this weekend including  Aaron Martin, George Jones, Ryan Hetrick, and Aaron Murray. They all played with me at Indiana Wesleyan and with the exception of Murray had all previously been to this prison to play. This is always a special experience for me, as after college you don't usually get a chance to see your former teammates, let alone play together competitively. The fact that they look forward to this day every year is wonderful. Ryan will be trying to bring in good players from his Indianapolis church league, so please pray that it takes off. The other three that went on this trip were Nathaniel Arington (second-time player here, Sports Reach alum and my brother), first-timer Thomas Planalp, and Nick Wright who has played softball but never basketball in prison with Sports Reach. 
We split the two-game series, with us winning handily the first game and then losing on a last-second shot the second game. Some interesting moments from the day:
One of the inmates had previously been at Miami County correctional where Indiana Wesleyan goes with their team and recognized some of the players. 
We met the new recreational officer and were able to give him two new basketballs. Besides basketball, he would be interested in seeing if we could bring an ultimate Frisbee team at some point. 
I asked if any other groups come in to do sports. The answer was no. I also asked if there were any groups that came there to do anything. The answer was also no. Coming in to spend time with these guys matters. We saw many family members visiting inmates as we were coming in and they were excited to see us spend time with their sons, husbands, fathers, etc. 
If you can, please find ways to support prison ministry by going, praying, playing, writing, etc.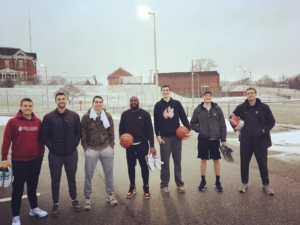 Back to blog