By Andrew Hammond
Ever since 2016, Ukraine has quickly become a favorite location for Sports Reach. We initially got connected and involved in Ukraine through youth baseball. However, God has already opened doors and connected us to the highest level of professional basketball in the eastern European nation.  While on a coach's ministry trip to Ukraine in September of 2018, where we partnered with the former top Ukrainian National Team player Dmitri Bazelevsky and Ukraine FCA director Liosha Yukhymchuk, God gave us the idea of bringing a collegiate level team on a foreign tour to Ukraine in 2019.
That meeting culminated in our group of 16 people departing from 9 different locations in the U.S on Thursday, August 8, with all but three of us connecting through Paris, France and traveling on to Kiev, Ukraine together.  Our group included Coach Tom Schuberth, Sports Reach associate director Zach Arington, our athletic trainer Megan Graf, Bible study leader Stan Curry, John Rogers, LaDavius Draine and Gabe Watson from Southern Miss, Elias Harden and Martin Roub from Jacksonville State, Jalen Johnson and PJ Hardy from Louisiana Lafayette, Emmanuel Dowuona from Purdue, Othello Smith from High Point University, Evan Stack from Western Kentucky, Mace Grier, a 2015 graduate of Miles College, and myself, Sports Reach Associate Director Andrew Hammond.
Upon arrival, we checked into our hotel and had a quick one-hour practice at the National Palace of Sports, a Ukrainian dinner at Pyzata Hata, and a nice evening walking tour of historic downtown Kiev.  
After the first night's rest, we had a morning Bible study with Stan Curry and then loaded a bus and traveled an hour and fifteen minutes south of Ukraine to the city of Bila Tserkva.  There, we led a children's clinic for an hour and a half, met Ukrainian basketball legend and two-time NBA world champion with the Los Angeles Lakers, Slava Medvedenko, and I got to share the Gospel with over 150 kids and parents in attendance that day.  
After the clinic a family initially from Bila Tserkva, but now living in South Carolina, approached us and thanked us for the Gospel message. They were home, visiting family in Ukraine and had prayed that morning for God to use the basketball clinic and basketball game in some way for his glory. Guess what, He answered their prayers!  They had also attended a Harlem Globetrotters and Washington Generals game in South Carolina in 2018 and remembered Coach Tom Schuberth and Mace Grier, one of the players on our trip. It truly is a small world!
Later that evening, we played our first game of the trip versus a Ukrainian all-star team. This team had six players who had played on the Ukrainian National team and two players who were currently on the national team.  The fourth quarter started, and it was a 57-55 game. But, the long two days of travel caught up to us as our Sports Reach team went 5 minutes without scoring while the Ukrainians got hot and pulled away for an impressive 81-66 win.  We stayed after the game and took pictures, signed autographs, and shared why we are in Ukraine. The response from the organizers in Bila Tserkva was overwhelmingly positive. Yes, we play to win, but honestly, I think they had a little extra local and national pride in witnessing a victory versus the American college players.
The following day was Sunday, and it was a full day from start to finish.  We ate breakfast at McDonald's on the way to church, and a Chinese lady approached our team curious as to who we were and why we were there.  She just happened to be a missionary in Ukraine from Taiwan. We visited with her for about 15 minutes and took a photo with her before going on to church. We attended ICA, an international English-speaking church in Kiev, where the guys enjoyed a worship service and connecting with the church members.  
Immediately after the service, we had a 1 p.m tip time versus the top amateur team in Kiev, Kiev United.  Just before tip-off I was given a few minutes to address everyone in the gym and share the Gospel of Jesus!  It was well-received, and the opposing coach approached us to share that he had previously been connected to a church in the U.S!  The team looked much more rested and played better together as it was just our third time playing or practicing as a team. The game was dramatic to the end with the buzzer sounding to a 92-92 tie!  Yes, a tie! They approached us and said, "Let's just keep it as a friendly, good competition, and goodwill toward one another." We agreed and again took pictures, signed autographs, did media interviews, and shared our purpose for being in Ukraine with everyone.
After the game, we grabbed lunch and departed for the airports with two separate direct flights from two different Kyiv airports to Zaporizhya, an old soviet industrial city in southeastern Ukraine.  Zaporizhya is home to the largest Soviet construction project ever built with the dam on the Dnipro River and was a crucial city in the steel and automobile industries. Our two one-hour flights arrived within thirty minutes of one another, we checked into a nice hotel and rested well.
We took it easy Monday morning and didn't depart for our game in Dnipro until 2:00 p.m.  Stan Curry led us in a great Bible study time from 10-11 a.m, and other than that we let the guys sleep in and rest. Dnipro was a city an hour and fifteen minutes north of Zaporizhya, and home to the four-time defending champions of the Ukrainian Super League (professional league).  Once in Dnipro, it was easy to see why they had the nicest facilities of anywhere we visited on the trip. A small gym, but first-class, and professional all the way. They were so gracious and hospitable giving us a tour of their state-of-the-art weight room, yoga room, wrestling room, and boxing ring!  We led a very well-organized clinic for about fifty of their youth. Afterward, we got to share the Gospel message with all the kids, their parents, as well as the coaches and players from Dnipro. We played their second division team that evening, and we started sluggishly. It was, however, our third game in a row, in our fourth different city of the trip.  After an intentional timeout to refocus and remember Who we were representing and what we were playing for, God's glory, we picked it up, had fun, and won 94-83. The BC Dnipro organization put together a great highlight video of the clinic and game and couldn't have been any more hospitable.  
Tuesday morning, we started off with another Bible study with Stan at 9:30 a.m. We followed that with a tour of a cultural and history museum at an original Cossack colony in Ukraine, considered by some to be the birthplace of the nation called, Zaporizhian Sich on the island of Khotrista.  The guys got the afternoon off to rest and stay off their feet before we departed for our fourth game in four days. We had our biggest attended clinic at the old BC Zaporizhya basketball/Olympic sports arena that afternoon. Nearly 90 kids from ages 7-16 attended. We again got to conclude a fun and interactive clinic led by our Coach Tom Schuberth and all eleven of our players, with me sharing the Gospel to over 150 people. 
 Our game that evening started an hour after the clinic versus the BC Zaporizhya professional Super League team, who didn't have their American signed players in training camp yet.  We took control early, played well together, and pushed through fatigue. We ended up with an 82-74 victory to move our record to 2-1-1. We again stayed after taking pictures, signing autographs, and giving away some Sports Reach t-shirts and uniforms which were very well received.  The Ukrainian response to the games and clinics were again overwhelmingly positive.
That night was our long night of the trip as we had a ten-hour charter bus ride from Zaporizhya to the coastal city of Odesa on the Black Sea.  The locals all told us that was the worst stretch of roads in all of Ukraine, and let me tell you, we found that to be true! Everyone rested as well as they could on a long bus ride through the night. But, after about 4-5 hours, we stopped for a rest break, and one of our players commented about the roads, "I feel like a milkshake!" Everyone, including Dmitri and Liosha our Ukrainian hosts, got a good laugh out of Martin's comment.  
Just after sunrise, we arrived at our hotel in downtown Odessa.  It was a beautiful historic old European architecture hotel overlooking the Black Sea.  We checked in our bags, unable to check into our rooms until 2 p.m, and explored the city.  We saw the famous Potemkin stairs, several beautiful parks, and walked to the beach on the Black Sea.  We rested all afternoon at the beach with a few of the guys venturing into the cold water along a very hot and crowded beachfront.  Dima, Liosha, and I attended a press conference that afternoon with the vice mayor of Odessa, the tourism director, the BC Odessa team president, and the BC Odessa head coach.  We were interviewed about the clinic, the game, and about the purpose of our trip. They were also promoting a rebranding a marketing strategy for the basketball team and city of Odessa.  It was a much bigger deal than I initially thought. They again were so gracious, hospitable, and welcoming to our team.  
Before going out that evening for some desserts, we had another tremendous Bible study time where we witnessed two of our players make a profession of faith to accept Jesus as their personal Lord and Savior!  We were so happy for these guys and celebrated with them. We then went out and had our desserts and fellowship time, met up with two FCA staff and their families, and walked through the festive streets full of summer nightlife in Odessa before calling it a night.  
Thursday started with a two-hour clinic at an outdoor court in Dynamo Stadium Park in Odessa with area youth. Coach Schuberth introduced them to some new drills they had never seen before and emphasized the things their own coaches had been instilling in them.  A local Ukrainian coach told me, "This helps us so much, as the kids see and hear from you all the same things we have been teaching and instructing them. It helps further our credibility with the kids." I again was given the opportunity, after the clinic, to share about who we are as Sports Reach, what we represent, and share the Gospel of Jesus with around forty kids and their parents. During the afternoon our local hosts took the team out on their sailboat for an hour on the Black Sea. The guys enjoyed the unique experience and expressed their gratitude to the boat captain.
We returned in the evening for a 6 p.m game versus the BC Odessa Super League team. They wanted it to be a fun and festive show for the crowd who had gathered for the game.  Before tip-off, I was again given the opportunity to address everyone in attendance and share about our faith in Jesus Christ, and nearly 200 people had gathered in the park to watch and listen.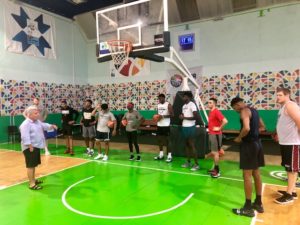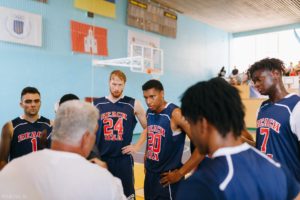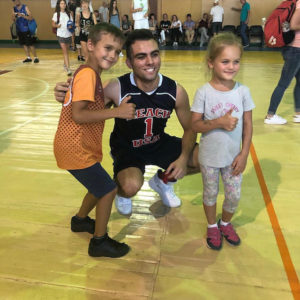 As the game started and the music was playing, both teams were having fun and playing loose and confident. Everyone else was enjoying an NBA all-star style basketball competition. The game fittingly and agreed upon concluded in a 99-99 tie.  Two ties in one trip in basketball, nearly unheard of, but it all fit into our purpose for being there, to build relationships and to share about the most important relationship, our personal relationship with "The way, the truth, and the life," John 14:6, Jesus Christ!
Friday morning, we concluded our basketball time in Ukraine with one more two-hour clinic with the local kids in Odesa. We practiced drills and fundamentals for an hour, then let them play five-on-five against us, the Americans, and closed it out with two competitions and some prizes!  We took pictures, signed autographs, and made connections with kids and their parents! Many of the kids and Ukrainian people we connected with are already following our guys on social media to stay in touch. After the clinic, we had a hard time saying goodbye and leaving the court but loaded up for a 6 hour drive north back to the capital city of Kyiv.  We also said goodbye to Dmitri Bazelevsky as he was staying in Odessa for the weekend with his wonderful family for some rest and business meetings. We couldn't be more grateful for Dima and his help in coordinating all the games for us. Back in Kiev, we had a great dinner at our favorite restaurant in all of Ukraine, Very Well Café, and then checked into our hotel and went to bed.  
Saturday, we took a late 11:30 a.m start into the city for some final site seeing and souvenir shopping with the guys.  Several of the other FCA staff and their families came and joined our group for the day in Kyiv. We rode the deepest subway system in the world across the city. We returned to the hotel by 7 p.m where we prayed over Liosha and his family, thanked them for all of their hard work, and returned to our rooms to pack and rest for an early 3:30 a.m departure time. 
Overall the trip went as well as we could have hoped for, and then some! Relationships were built, our guys got to experience a different culture on the other side of the world, and we helped share the love of Christ through basketball. Dmitri Bazelevsky shared with us some observations of our team on the trip that represented Sports Reach well,
 "They don't forget to say thank you literally for everything. Thank you or thank you, sir, was heard constantly. In a café/restaurant after the food, many of the players put their chairs back in place and cleaned up around them. If you're sitting alone, they ask you to come to join them for lunch or dinner. After each game, coaches and players together strive to clean up empty water bottles and everything that is left around their bench and in the locker room as well. In the workshops (clinics), the players themselves go to the playground to play, throw and hang out with our children. They never complain about anything, lack of hot water, fatigue, any food, waiting for a game to start sitting in the hallway or gym, or just waiting on anything."
We got very positive feedback from each city, each host, each clinic, and game.  They are already excited and planning for another year. We got word that four more cities want to host and bring our Sports Reach group to their city in Ukraine next time. We were able to share the love of Jesus with close to 600 people directly, not including people who approached us in the cities, restaurants, and subways across the beautiful country of Ukraine.  Our players represented the love of Christ well, and completed their mission of using their skills in basketball for God's Glory! 
Back to blog